Last Updated:

Sat Jul 09 2022
Reading Time:

2 min
Ashes of Creation Combat Reveal
In a developer stream on 7/1/2022, the Intrepid team gave us the first Ashes of Creation Combat Reveal since switching to Unreal Engine 5. The combat footage featured the Great Sword and Dual Wielded Daggers. The team stated they choose these two melee weapons to show the difference in the feel of weapon weight. These two weapons would be on opposite sides of the "weight" spectrum in the new system. They went on to discuss how it was important to define the edges of the spectrum to make sure combat feels impactful with each weapon in Ashes of Creation.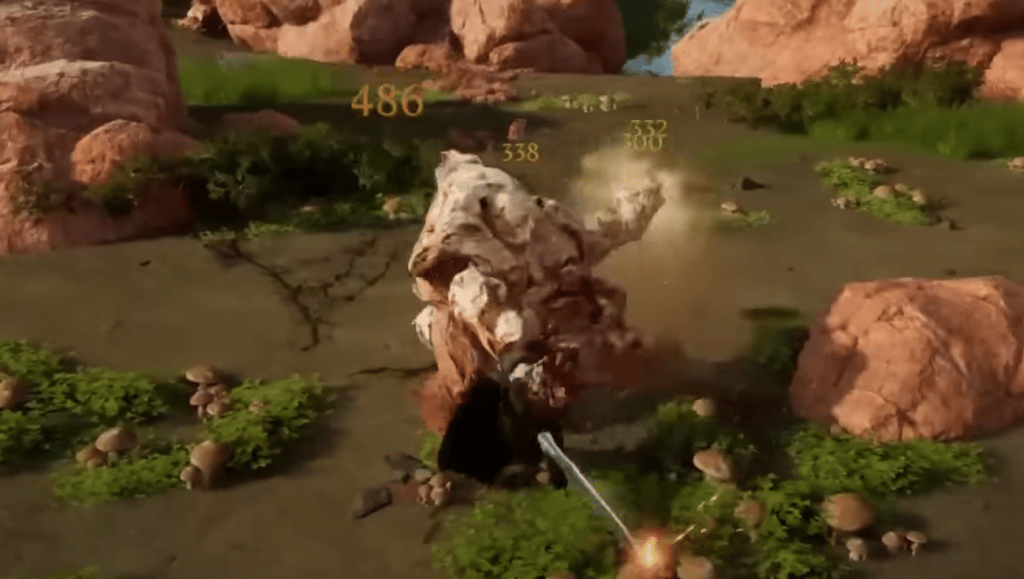 Next in the Ashes of Creation Combat Reveal, the team went on to discuss mobility during combat and why they feel it's important for the player to be able to "move and attack". They gave examples of older MMOs and why it's important to give players Agency while still maintaining the weight of combat. The team thinks that they have found the best of both worlds, creating an impactful yet agent hybrid combat system.
Live Stream Clarification
After the live stream, a community manager went to the forums to clarify some questions regarding the Ashes of Creation Hybrid combat system and the weapon abilities shown in the live stream. Vaknar's post from the Ashes of Creation forums is below.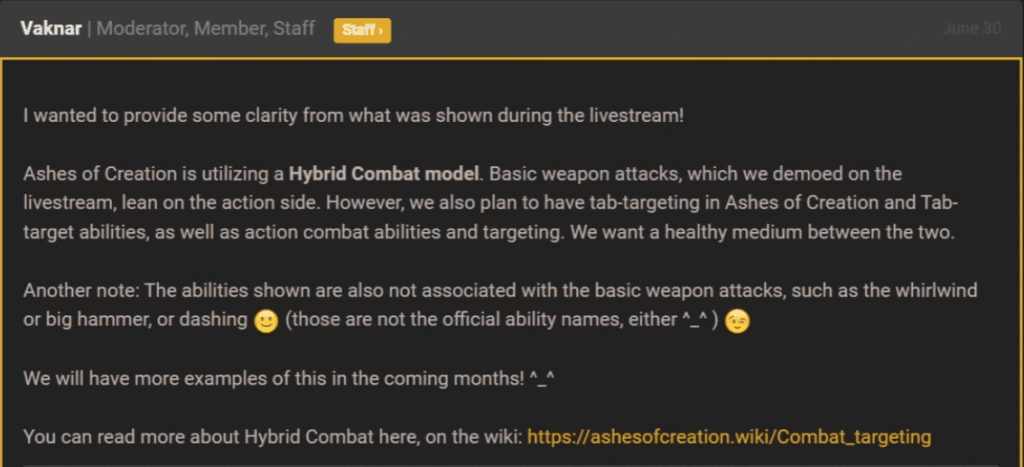 The information provided by Vaknar, combined with recent statements from the Intrepid team suggests that they have more work to do to combat in Ashes of Creation before Alpha 2. These statements also double down on the Hybrid Action/Tab Target system they have mentioned before. A Combat system that is similar to games like Guild Wars 2 and Elder Scrolls Online.
Finally, the team did make it clear that they would be showing more combat footage and abilities in upcoming Dev streams. They also mentioned that the ranged combat reveal would be coming soon! Stay tuned for more on ranged combat and Ashes of Creation News.