Last Updated:

Sat Jun 17 2023
Reading Time:

5 min
Diablo 4 Tree of Whispers Guide
The Tree of Whispers is an important character piece within the Diablo 4 Storyline. However, after completing the campaign, the tree becomes a vital part of the end-game loop. Today in our Diablo 4 Tree of Whispers Guide, we will take you through the many ways you can earn loot caches and XP from the Tree of Whispers.
Grim Favors
Grim Favors are the source of your rewards from the Tree of Whispers. You can collect Grim Favors by completing different objectives across the map. To obtain a reward from the Tree of Whispers, you will need to fill up your Grim Favors meter before returning to the tree for your reward. The total amount of Favors needed is 10. Your total Grim Favors can be checked by opening the map and looking at the bottom of the screen.
It should also be noted that any Grim Favors over the maximum of 10 carries over once 10 are spent.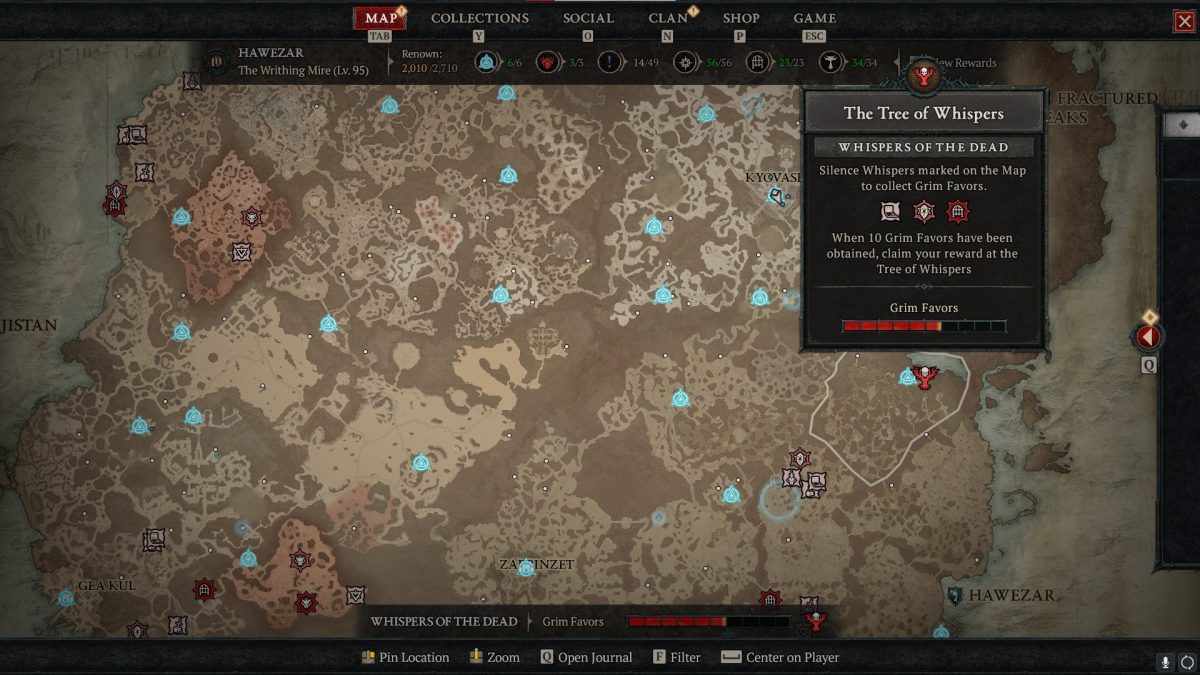 Objectives and Rewards
As seen on the map above, the Tree of Whisper objectives are all across the map. Some objectives however, reward different amounts of Grim Favors:
High Value Target (1 Grim Favor) – This objective requires you to find a corpse around the objective location. Once the corpse is found, you will be tasked with taking out the target.
Kill Count (1 Grim Favor) – Kill Count is a simple objective, kill X amount of enemy mentioned in the objective.
Clear Cellar (1 Grim Favor) – A very simple objective, head to the marked Cellar on the map and clear it.
Complete an Event (1 Grim Favor) – Complete a nearby Event to complete this objective.
Collect 100 Souls (3 Grim Favors) – Collect 100 Souls by killing enemies in the area around the quest. Once collected, deposit the souls at a nearby altar.
Complete Rituals (3 Grim Favors) – Complete this event by activating 4 Rituals in the area.
Legion Event (3 Grim Favors) – The Legion of Demons periodically invade sanctuary in a World Event, defeat the horde to complete this.
Complete a Dungeon (5 Grim Favors) – Complete the Dungeon shown on the map to receive the highest Grim Favor reward.
World Boss (5 Grim Favors) – Killing a world boss that spawns every few hours onto the map will reward you with 5 Favors!
Whisper objective details is available through checking the icons on the map and hovering over them.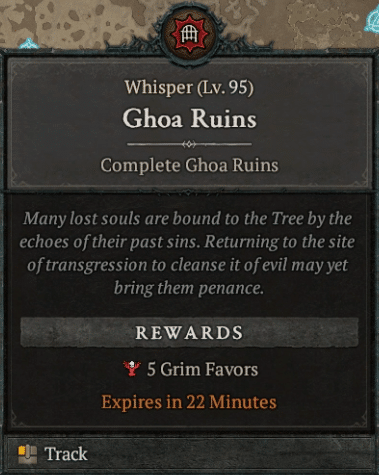 PvP Objectives and Rewards
There is also PvP objectives for those that like to engage in Player vs Player content:
PvP: Complete an Event (1 Grim Favor) – Much like the normal Event Whisper, complete an Event within a PvP zone.
PvP: Purify Seeds of Hatred (3 Grim Favors) – This objective requires you to successfully extract Seeds of Hatred in the PvP zone. Extracting Seeds of Hatred is also the primary objective in the PvP zones. Gather Seeds by killing mobs, bosses and also Players carrying Seeds.
PvP: Kill the Seething Abomination (5 Grim Favors) – The Seething Abomination is the main boss within the PvP zone. Killing the boss is pretty simple, however enemy players may control the area around it. As a result, play cautiously when attempting the boss kill.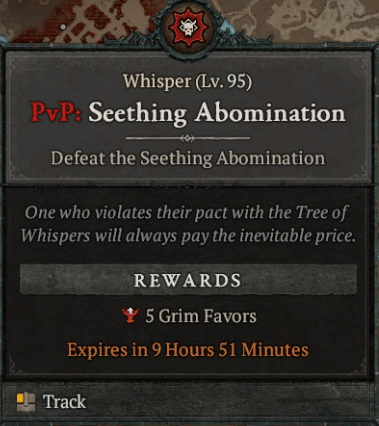 PvP in Diablo 4 has several components to it and can be very fun and rewarding. For more information on PvP, check out our PvP Guide.
Diablo 4 Tree of Whispers Rewards
Once you have managed to fill up your Grim Favors meter to 10 out of 10, a quest indicator telling you to claim your reward will appear. Head back to the Tree of Whispers to spend your Grim Favors and receive a reward!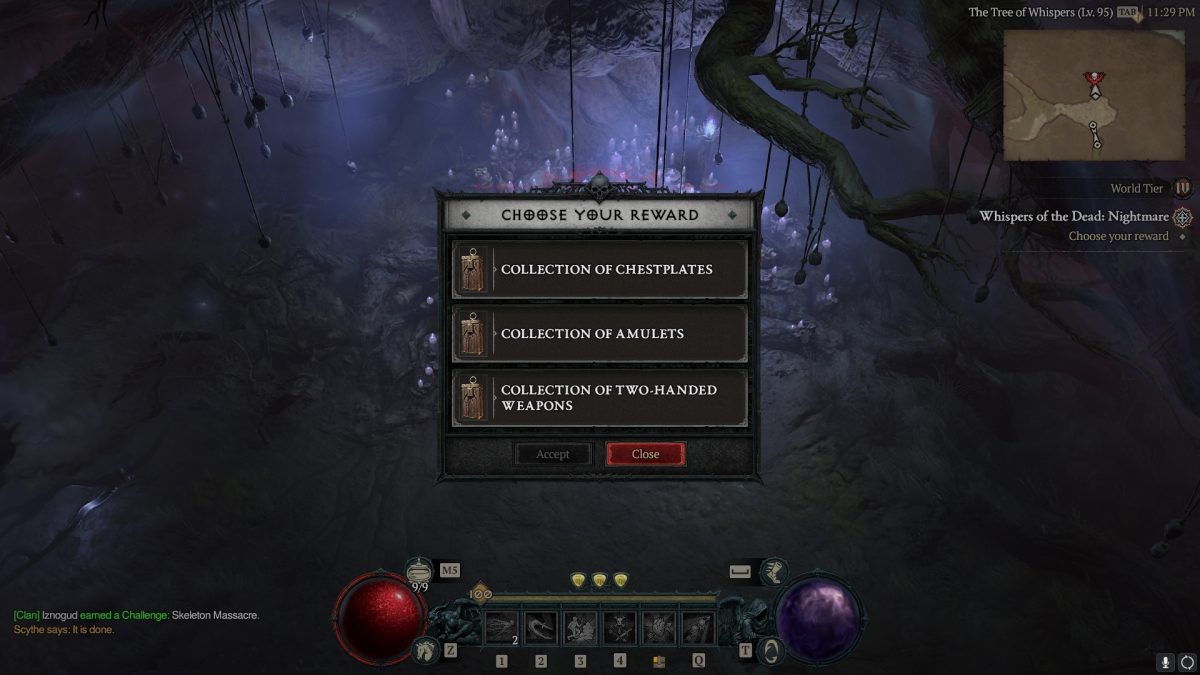 Interacting with the Tree of Whispers brings up a reward selection menu. The Cache collections are random each time and also contain multiple rewards per cache. Select the Cache that has the loot type you are targeting and open it up! Each Tree of Whisper completion awards you with a Cache and also a chunk of XP.
Tree of Whispers Tips
The Tree of Whispers and collecting Grim Favors is an infinitely repeatable end-game task. As a result, keep an eye out for worthwhile objectives!
Do not worry about going over the total amount of Grim Favors needed for a reward, any Grim Favors earned past the 10 Favors limit will carry over.
Focusing on Dungeons or any of the other 5 Grim Favors objectives nets you the highest Grim Favor gain per time spent. Especially ones that you haven't unlocked the codex/renown yet.
After completing a Dungeon for 5 Grim Favors, be sure to also check if a World Boss is available. This will cap your Grim Favors and net you a boss kill!
The Tree of Whispers is individually tracked on each World Tier, as a result, be careful not to mistake your progress.
Tree of Whispers objectives have a time limit, keep this in mind while completing them!
Occasionally in the rewards, you have the opportunity to select a "Great Collection" cache. Keep an eye out for the Great Collection rewards, they reward you more than usual.
Diablo 4 Tree of Whispers Guide Conclusion
This concludes our guide for the Tree of Whispers in Diablo 4! For more Diablo 4 information, guides, builds and more, be sure to check out our Diablo 4 home page!