Last Updated:

Thu Mar 30 2023
Reading Time:

3 min
Should You Dismantle or Sell Items In Lost Ark
If you've been playing Lost Ark for a while, you've probably noticed you pick up a lot of items. If you are not careful, these items will start to clog up your inventory while playing. But, what is the best way of clearing out your inventory? So, let's take a look at just that; what's better in Lost Ark Dismantle or Sell.
How To Dismantle Items
For anyone new to the game, or if you've just missed it, you're able to Dismantle weapons, armor, accessories, and ability stones.
This is done directly in the inventory UI by clicking on little hammer icon at the bottom left. Then, you can right click items to select them for Dismantling and click Dismantle to convert the items. Additionally, you can select a rarity button on the Dismantle Item section to move all of a given rarity over. At lower levels you will get [Useful Equipment Piece] and [Useful Equipment Powder] which is just used as vendor fodder. Once you reach Tier 1, items will break down into materials for upgrading from gear. Meanwhile, the ability stones will be breaking down into dust to buy more ability stones.
Lost Ark Dismantle or Sell
The big question; Lost Ark Dismantle or Sell? Dismantle. At every point of the game you should Dismantle your excess equipment. The amount of silver is equal to selling at low levels, so you are just saving inventory space. At higher levels you are getting upgrade materials, so you will want to take advantage of that.
Additionally if you look at the screen shot above, you will notice the "Great… 5" at the top of the loot screen. These are what Lost Ark calls "Great Success" procs. A Great Success is the rare chance of gaining additional loot. So for this example, 5 of the items happened to provide an increase in loot while Dismantling!
Auto Dismantling Functionality
You may have noticed at the bottom left of the Dismantling UI, there is a "Auto-Dism. Stg." button; This is the Auto-Dismantling Configuration button. When selected, you are provided with a selection of what kind of items to Auto-Dismantling when looted. At the time of writing this article, the functionality wasn't working correctly and we hope that Smilegate RPG or Amazon Games will have a fix for it soon.
Ideally you will have this functionally enabled once you are no longer looking for upgrades on a character. For example, my main character is in Tier 3, meaning I would want anything under Tier 3 automatically be broken down when looted f.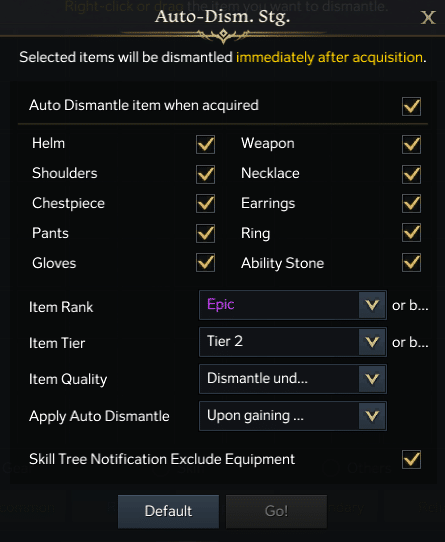 That's that for the Lost Ark Dismantle or sell debate. We'll keep this page updated should anything change. Enjoy your journey in the world of Arkesia! Also, feel free to join us in Discord and talk with us.