Last Updated:

Wed Nov 02 2022
Reading Time:

2 min
Fresh Start Survival Guide
Today marks the launch of the first wave of Fresh Start Worlds – as well as the Return to Aeternum event. Get a head-start with our updated guides!
Fresh Start Worlds
These are new servers that do not allow transfers in or out, to allow for an even playing field for new and returning players. Players will be able to transfer to existing "legacy" servers at a later time.
Fresh Start Servers unlock at specific times throughout the day, and we can expect more to come online as necessary. Refer to the rollout plan below and to the official FAQ for details.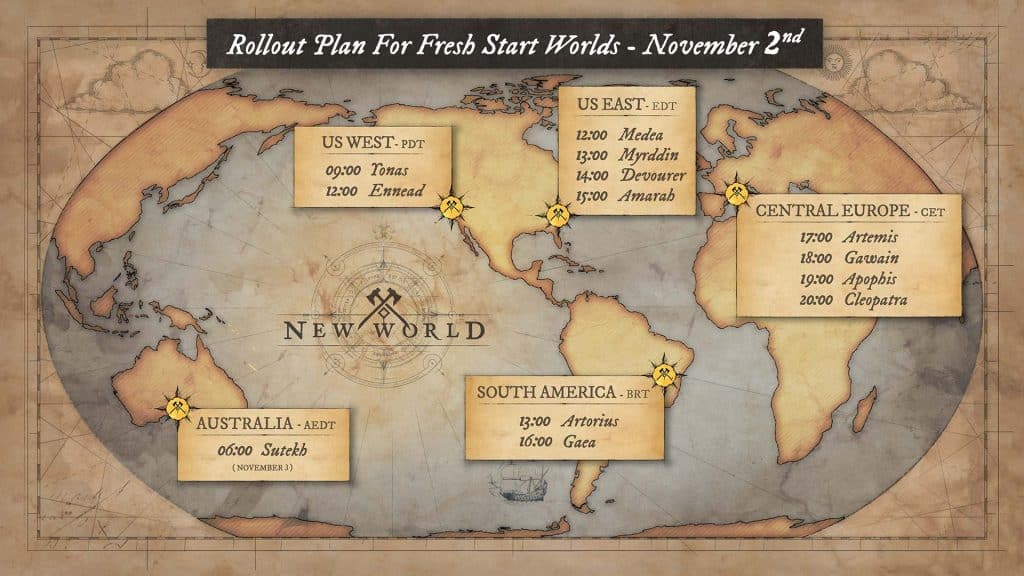 Return To Aeternum
This is a 2-week long competition between 4 teams of content creators. These teams are playing on invite-only Fresh Start Worlds and have to reach certain objectives within the game to unlock 4 different sets of Twitch drops. You can follow the progress and currently unlocked drops on the event page. These worlds will open up to all players after the event ends on November 18th, but transfers will not be allowed.
New & Returning Players
Whether you are joining the Return to Aeternum event or starting over on any of the regular Fresh Start Worlds, we have a collection of guides to help you get started.
If you are a completely new player, our Ultimate Beginner's Guide walks you through everything there is to know about New World's mechanics and general tips and tricks.
Returning players and new players ready for some more advanced knowledge will benefit from our Returning Player Guide. It goes into detail about all the features added to the game in the past year. Most importantly it explains how to progress after level 60 using the expertise system.
For an optimal leveling experience on the Fresh Start Servers, see our Complete Level 1 – 60 Leveling Guide. This has been updated to reflect all the changes to the new player experience and revamped zones.
Make sure to visit our builds section if you need help building out your character. You can also use our interactive map to find locations and gathering spots. Check out a few of our recommended leveling builds below.
Once you've made it to level 60 and are ready to head into Brimstone – the game's most recent expansion – visit our Brimstone guides. These are highlighted on the frontpage.
If you need help or want to hang out with like-minded players, join the StudioLoot discord.