Last Updated:

Tue Jul 11 2023
Reading Time:

2 min
New World Cooking Ingredients
New World cooking ingredients can be found in multiple ways throughout Aeternum. Here you will find a list of the herbs and spices by zone and source.
You will notice that the First Light Zone is not on the charts. See the First Light section for more information.
Spice Locations
The chart below lists each spice and the location at which you need to harvest an herb in order to obtain the spice. When harvesting the herb, the drop is going to depend on your skill level, luck bonus, and location. You can check our interactive map for the location of herbs by selecting them under the "Resource Finder" section. 
Other New World Cooking Ingredients
The chart below lists each ingredient that can be found by looting a provision crate in the applicable zone. You can find the location of all the provision crates by checking our interactive map and filtering by chests, and provisions.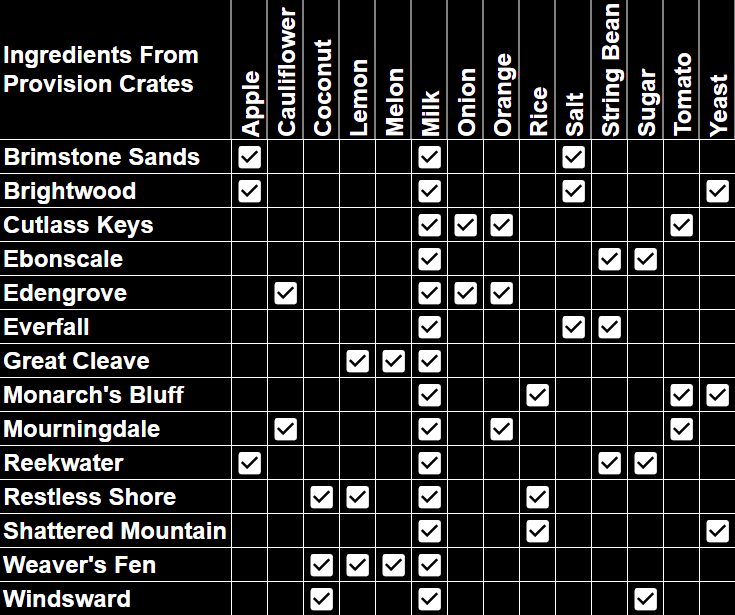 First Light Retraction
With the addition of New World Season 2, Blood of the Sands, the First Light Zone was closed. This was done in preparation of the expansion coming at the end of 2023. The entire First Light Zone is being reworked.
This, in turn, removed all of the herbs and crates that could be harvested and looted from the zone. First Light was the primary location for obtaining nutmeg from herbs. There are not a lot of herbs located in Great Cleave or Weaver's Fen, the only other locations that have nutmeg. Therefore, the majority of nutmeg is going to have to be obtained via aptitude crates at this time.