Last Updated:

Mon May 16 2022
Reading Time:

2 min
Nightingale Realmwalker Compendiums
Nightingale is an upcoming shared world survival-crafting game set in a rich Gaslamp Victorian fantasy setting. Inflexion Games is the studio behind the project with an expected release sometime in 2022. Players venture through portals where adventure and mystery awaits across a myriad of beautiful and increasingly-dangerous worlds. Players have to gather resources, build up outposts and explore the remaining portals in search of the now-lost main city – Nightingale.
The story is still unfolding for this upcoming survival game. However, on the Nightingale Twitter page they have been releasing a series called Realmwalker Compendiums. These outline some of the lore in the game.
Nightingale has released three Compendiums to date. These include information about the Bound, The Fae Realms, and the mysterious Portals we have seen in the game Trailer.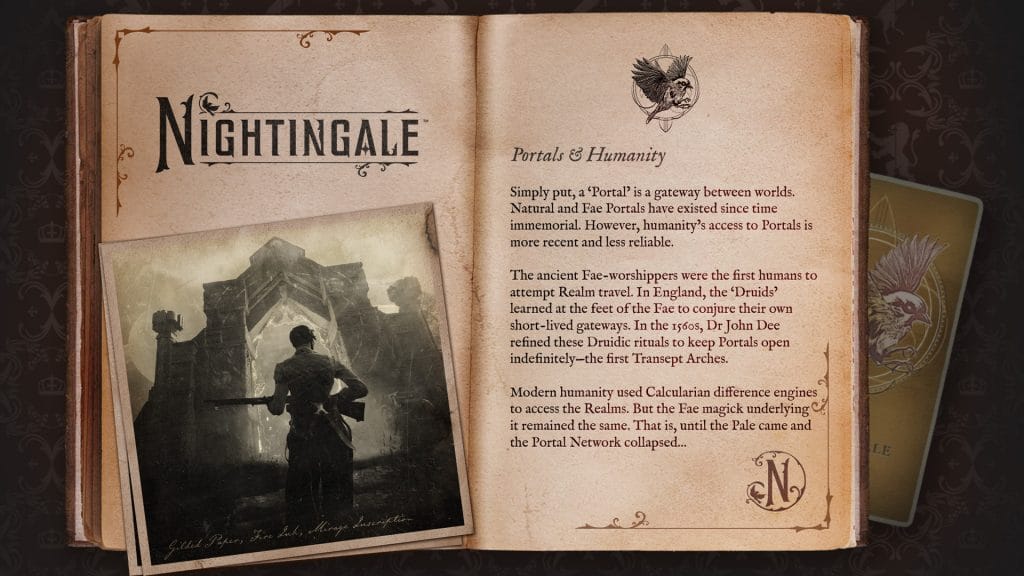 We have not received much information about how the Portals will work up to this Point. We do know that the game will feature seemingly endless Realms utilizing the Portal System.
Along with the Fae and the Bound we also know Harpies will exist in Nightingale. We should soon see a Compendium that gives us more information about the creature. For now, we know that Harpies are flying creatures that can steal things from the player's encampment. They also disguise themselves as old women wrapped in cloaks to lure players into a false sense of security until they can get close.