Last Updated:

Wed Jul 19 2023
Reading Time:

6 min
Diablo 4 Vendor Guide
Introduction
Vendors are important to your character's progression In Diablo 4. They will help you manage your inventory, keep your potions full, upgrade your gear, and more! In our Diablo 4 vendor guide, we'll discuss the Alchemist, Blacksmith, Purveyor, Jewleer, and Occultist.
Alchemist
The Alchemist allows you to upgrade your Healing Potions and craft Elixirs that will help you in battle. This Alchemist becomes available at level 10 via Priority Quest. Simply follow the quest by upgrading your weak healing potion.
Potions
As you progress in level, upgrade the quality and the number of healing potions you can have will become available through the Alchemist. You can also earn Healing potion charges through the Renown system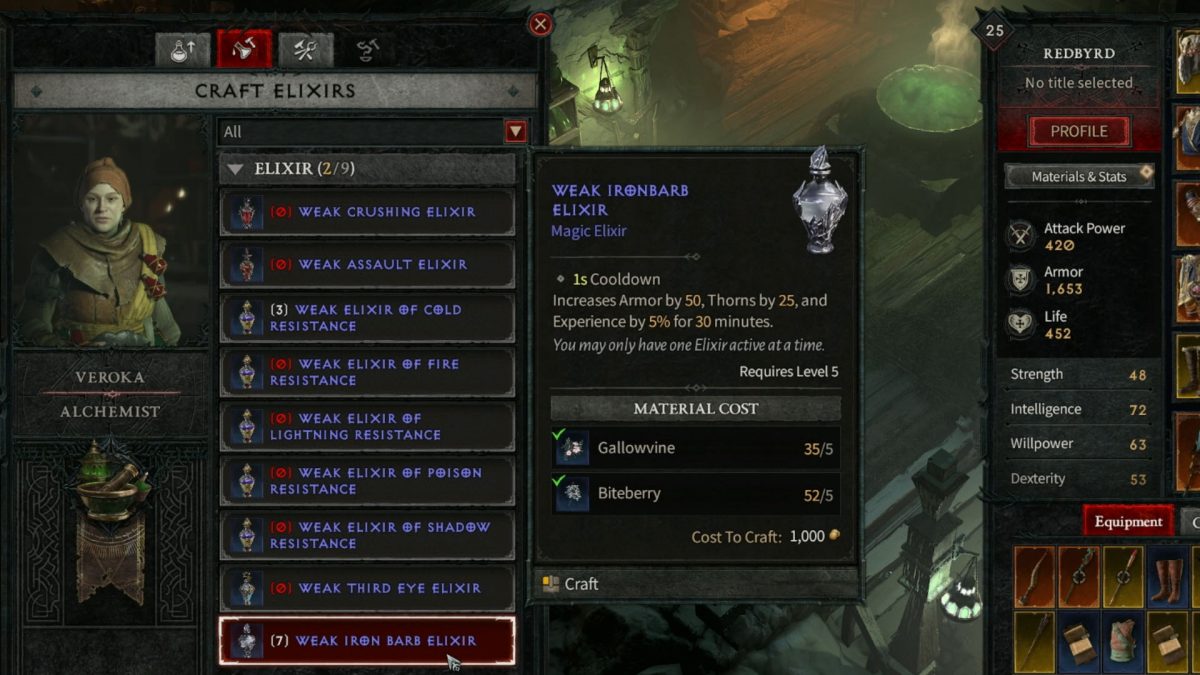 Elixirs
Elixirs provide various different buffs to your character during your adventures in Diablo 4. All Elixirs will also increase your XP gain. Below are the known Elixirs available to craft at the Alchemist Vendor.
NOTE – YOU CAN ONLY HAVE ONE ELIXIR ACTIVE AT A TIME
Elixir
Effect
Iron Barb
Increases Armor by X
Increase Thorn by X
XP gained by 5%
Third Eye
Increases Dodge by X%
XP gained by 5%
Elixir of Cold Resistance
Increase Cold Resist by X%
XP gained by 5%
Elixir of Fire Resistance
Increase Fire Resist by X%
XP gained by 5%
Elixir of Lightning Resistance
Increase Lightning Resist by X%
XP gained by 5%
Elixir of Poison Resistance
Increase Poison Resist by X%
XP gained by 5%
Elixir of Shadow Resistance

Increase Shadow Resist by X%
XP gained by 5%
Assault Elixir
Increase Attack Speed by X%
XP gained by 5%
Crushing Elixir
Increase Overpower Damage by X%
XP gained by 5%
Incense
We do not currently have information on Incense but we will add it to this information as soon as we know more!
Blacksmith
Early on in your journey, you'll come across the blacksmith. The Blacksmith becomes available at level 10. Here, you can Salvage items in your inventory to gain crafting materials and repair your gear. You can also upgrade your armor at the Blacksmith with crafting materials you earn from the Salvage system
Salvage
The Salvage system in Diablo 4 lets you take gear from your inventory and turn it into crafting material needed to upgrade your gear. Salvaging also unlocks the appearance of that item for the Transmog System!
Upgrade
Upgrading your gear is vital as you progress through Diablo 4. The Blacksmith can help you upgrade both your armor and weapons. Upgrading Armor and Weapons will increase the benefit of the perks of the gear including the base damage of weapons and base mitigation of the Armor.
Below are the items that are required to upgrade each type of equipment at the Blacksmith.
NOTE – Upgrading gear to the next tier will cost gold AND more of the previous Tier Materials.
| | | | | | |
| --- | --- | --- | --- | --- | --- |
| | Tier 1 | Tier 2 | Tier 3 | Tier 4 | Tier 5 |
| Weapon | Iron Chunk | Silver Ore | Veiled Crystal | Baleful Fragment | Forgotten Soul |
| Armor | Rawhide | Superior Leather | Veiled Crystal | Coiling Ward | Forgotten Soul |
Purveyor
The Purveyor lets you spend Obols, a currency you'll earn in your adventures, to randomly roll items.
Obols
Obols can be earned in Special events in Dungeons and Open World Events such as Local and Zone Events. You can only hold a total of 1000 Obols at any time so it's important to visit the Purveyor frequently to roll gear. Below are some of the events that reward Obols:
Cursed Object Events in Dungeons
"Gathering Legions" Zone Event
Local Events
Quest Cache rewards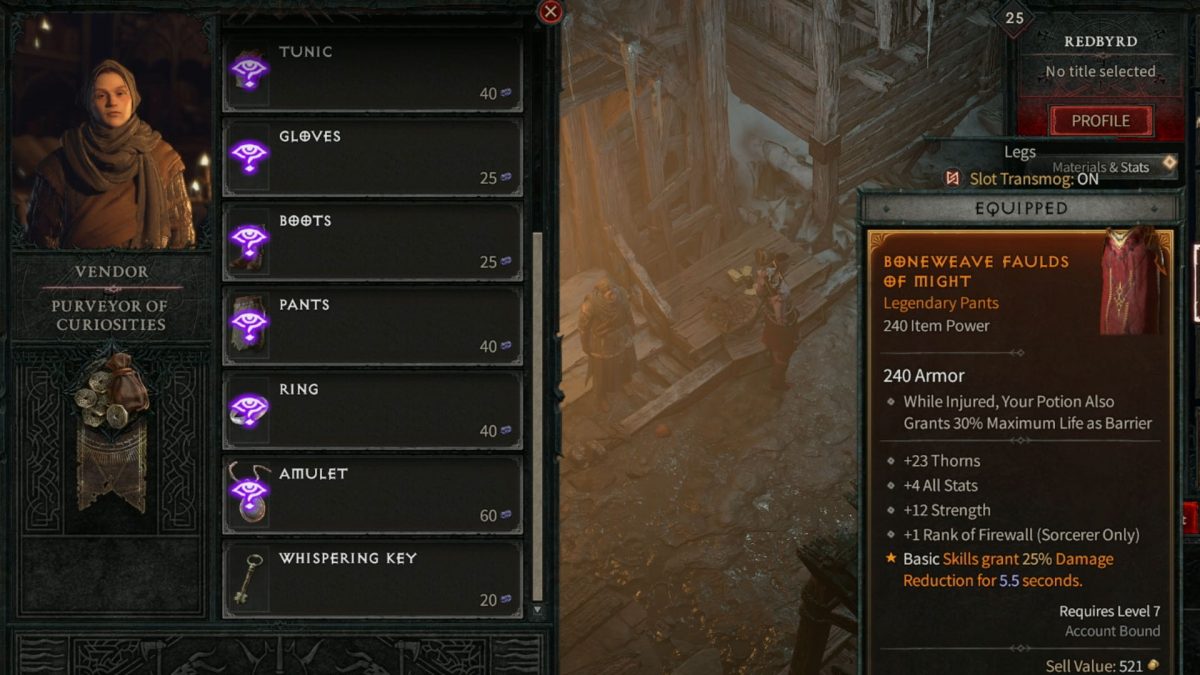 Item Costs
The Items purchased from the Purveyor can earn you rare and legendary gear. This makes the Purveyor a good place to find Legendary Aspects for your build! These items will scale with your character's level. Each item that you purchase with your Obols has a set price. Below is the cost of each item available from the Purveyor.
Weapons/Off Hands
| | |
| --- | --- |
| Axe | 50 |
| Sword | 50 |
| Bow | 75 |
| Crossbow | 75 |
| Mace | 50 |
| Two-Handed Axe | 75 |
| Two-Handed Sword | 75 |
| Two-Handed Hammer | 75 |
| Polearm | 75 |
| Wand | 50 |
| Staff | 75 |
| Focus | 40 |
Armor, Jewelry, and Misc
| | |
| --- | --- |
| Cap | 40 |
| Tunic | 40 |
| Gloves | 25 |
| Pants | 40 |
| Boots | 25 |
| Ring | 40 |
| Amulet | 60 |
| Whispering Key | 20 |
Jeweler
The Jeweler is where you can upgrade your gems and Jewelry, as well as, add sockets to all your gear. The Jeweler becomes available at level 20 after completing a "Priority Quest" to visit her in Kyovashad.
Gems
Upgrading your gems is important as you progress to max level and beyond. To upgrade your gems, you will need 3 gems of equal quality and some gold. Upgrading gems increase the stats that they provide (depending on what piece of gear you slot them in.) For a full list of Gem effects on Armor, Weapons, and Jewelry, check out our Diablo 4 Gem Guide.
Upgrade
NOTE – Upgrading Jewelry to the next tier will cost gold AND more of the previous Tier Materials.
| | | | | | |
| --- | --- | --- | --- | --- | --- |
| | Tier 1 | Tier 2 | Tier 3 | Tier 4 | Tier 5 |
| Jewelry | Iron Chunk | Silver Ore | Veiled Crystal | Abstruse Sigil | Forgotten Soul |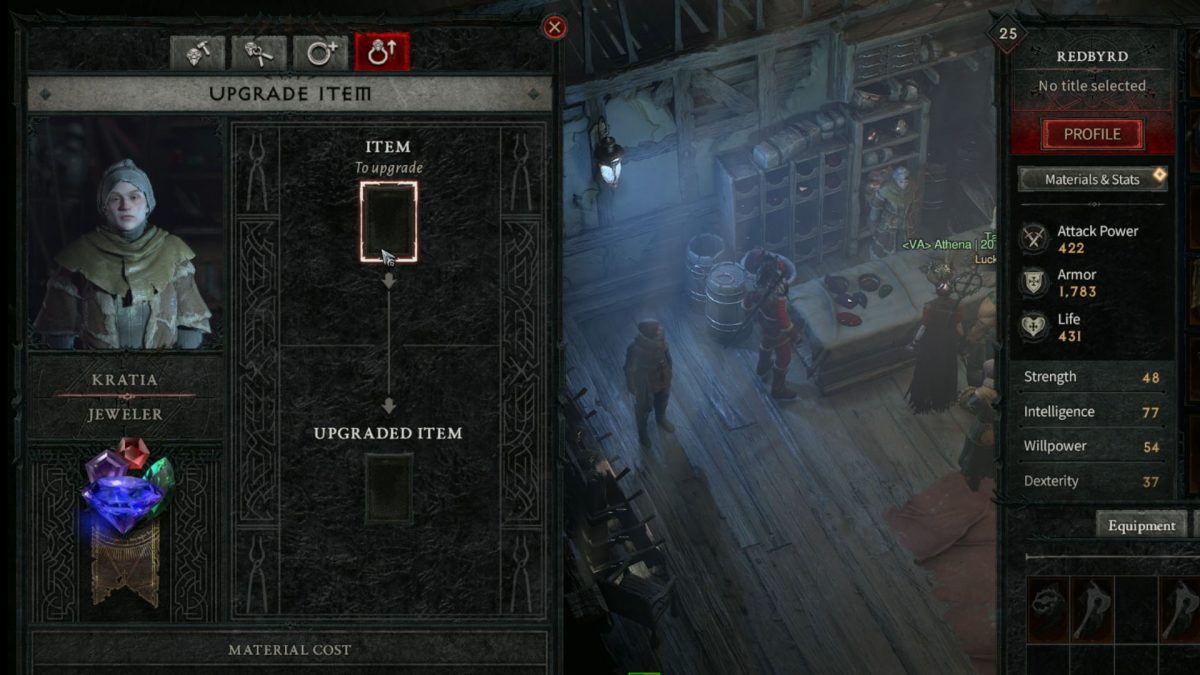 Sockets
To slot a gem, you will need a Gem Slot on your gear. Some gear drops with gem slots already on them while other pieces of gear will require you to visit the Jeweler to create the socket. Once at the Jeweler, you'll need to pay 1 Scattered Prism to create a socket in a piece of gear of your choosing.
Some Pieces can not have sockets added While others can have more than one. Below is a chart showing each piece of gear and the number of sockets that can be added to each.
NOTE – YOU CAN ALSO UNSOCKET GEMS AT THE JEWELER
| | |
| --- | --- |
| Piece of Gear | Max Number of Gem Sockets |
| Head | 1 |
| Body | 2 |
| Gloves | 0 |
| Pants | 2 |
| Boots | 0 |
| Amulet | 1 |
| Ring | 1 |
| 1 handed Weapon/off hand | 1 |
| 2 handed Weapon/bow | 2 |
Occultist
Last but not least is the Occultist. The Occultist is the most important vendor in Diablo 4. Here, you can Imprint and Extract Aspects, Craft and Salvage Nightmare Sigils, and Enchant your gear. As you will notice below, the Occultist charges a significant amount of gold for his services.
Extracting Aspects
The Occultist can help you extract Aspects from Legendary Gear. This allows you to put a Legendary Trait from one Legendary onto another. This Process cost a large chunk of gold but is worth it to make sure you can build around the Legendary Aspects you want. There is a separate tab for Aspects on your inventory.
NOTE – ONCE YOU IMPRINT A LEGENDARY ASPECT IT CAN NOT BE EXTRACTED AGAIN.
Imprint Aspects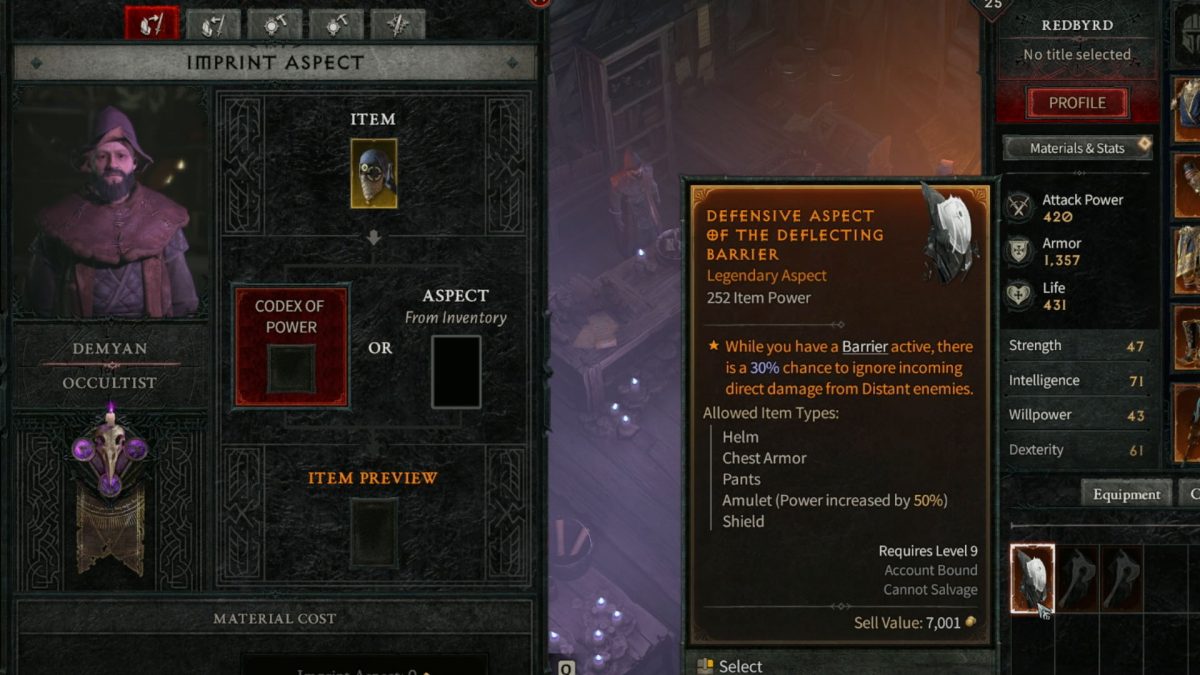 Once you have obtained a Legendary Aspect, you will need to Imprint it on another item. To do so, you will need a rare item and a Legendary Aspect that matches the selected item. Below is a chart that shows you the different categories of Aspects and the gear you can imprint them on.
| | |
| --- | --- |
| Offensive | Amulet, Weapon, Gloves, Ring |
| Defensive | Shield, Helm, Chest, Pants, Amulet |
| Resource | Helm, Amulet, RIng |
| Utility | Shield, Helm, Chest, Amulet, Gloves, Ring |
| Mobility | Amulet, Boot |
Another Thing to Consider when imprinting Legendary Aspects is that they can become more powerful depending on the item that you imprint them on. Below are the known increases to a Legendary Aspects power when imprinted on specific items.
Amulet – 50% increase
2 Handed Weapons/Bow – 100% increase
Enchanting
Enchanting allows you to "reroll" perks on your gear into potentially better perks. You can reroll perks on both Rare and Legendary items. Below is the Material you will need to reroll a perk on a piece of gear.
Rare Item – Veiled Crystals + Gold
Legendary Item – Fiend Rose + Gold
You can only "reroll" one perk on each piece of gear. This perk can be continued to be rerolled until you get the perk you are looking for. Each time you Enchant, you will be provided with two new options for the perk slot AND to keep the current perk. Whether you choose a new perk or the current perk, you will be charged the cost of Enchanting.
NOTE – There are perk pools for different slots on different gear. Its important to consider this when enchanting gear.
Craft and Salvage Sigils
There is not a lot of information on this service from the Occultist. All we know is that Sigils will be required to enter Nightmare dungeons and that you can craft and Salvage them to get the Sigils you want. We will update this guide when we learn more!
Diablo 4 Vendor Guide Conclusion
This concludes are Diablo 4 Vendor Guide. For more Diablo 4 content, be sure to check out our home page!